The village of Sarti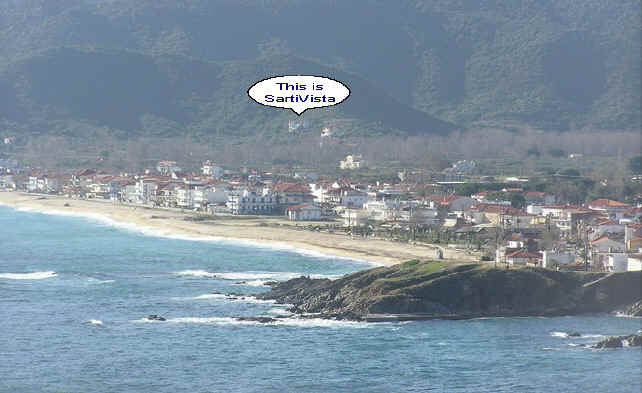 Sarti, Halkidiki, Greece has been a fishing and farming village located on the northern coast of the Aegean Sea. It faces the Holy Mount Athos, and on a clear day you can see some of the famous monasteries across the bay.
In the last twenty years, it has grown into a major tourist destination during the summer months. Sarti has a year-round population of about one thousand, but in the summer months it attracts many visitors and tourists from many countries, so that its population increases tenfold or more.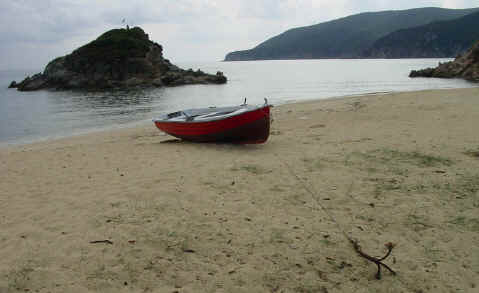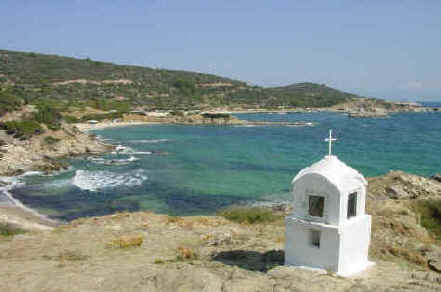 The area surrounding Sarti is one of the most scenic and pristine areas in all of Greece. The land is hilly, rocky, wooded, and wild, while the sea is clear and deep blue.
The last 20 miles of the drive to Sarti down the Sithonia peninsula offer a series of breathtaking views of the rocky outcroppings and sandy beaches that form the coastline.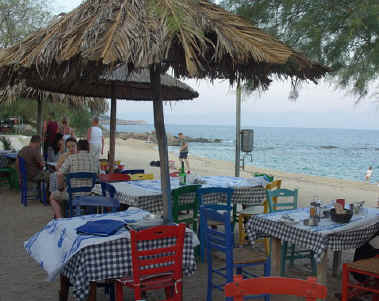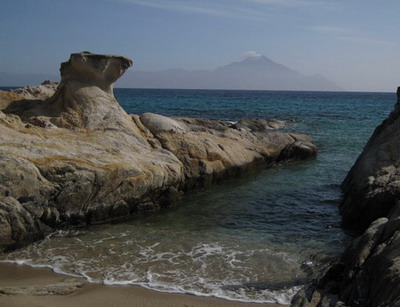 The village has many charming Greek tavernas; seafood tavernas offer calamari, octopus, shrimp, and fresh fish from local fishermen, while others offer traditional Greek dishes like souvlaki and gyro. There are also more conventional dishes available, such as pasta, pizza, steaks, chops, and hamburgers. Be sure to try the local fresh wines, the Greek apperitif 'ouzo', and the local homemade spirit, 'tsipouro'.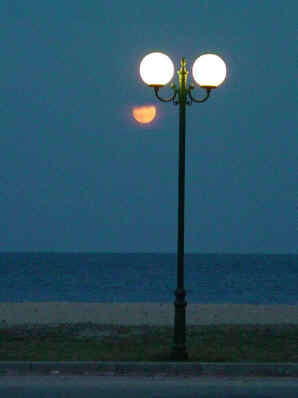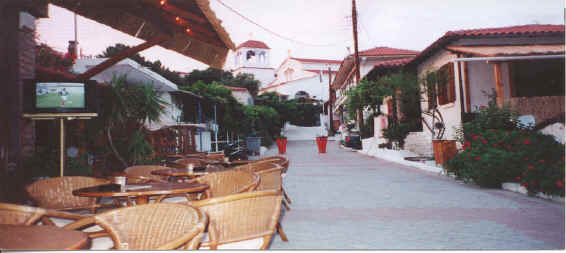 You can shop for souvenirs, pottery, jewelry, and other crafts in the many shops in the village. Also, you can purchase our own products (wine, olive oil, tsipouro, jams) directly from us.
Many cafes, bars, and nightclubs provide a wide choice of nightlife, music, and dancing well into the night.
We would be happy to direct you to some out-of-the-way picturesque tavernas, nestled against the rocky seashore, where local fishing boats are moored in the harbor below.
Copyright @ 2001-2022 SartiVista All Rights Reserved